Welding Services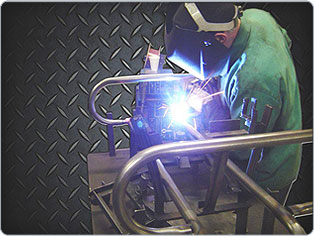 Welding is a localized fusion of metals produced by heating to suitable temperatures. Pressure and/or filler metal may or may not be used. The filler material has a melting point approximately the same or below that of the base metals, but always above 800° F (427° C).
Loyal Manufacturing Corporation's Welding Service provides its customers with precision metal products since 1975. We offer MIG and TIG welding for customer parts requiring durable, heavy-duty assembly and resistance welding with the ability to insert weld nuts and studs for light-duty or thin gauge material parts. Utilizing Miller welding equipment, Loyal Manufacturing can provide high volume, repeatable products. Our dedicated and experienced employees strive for "Total Customer Satisfaction" and "On Time Shipping" in every part produced. Loyal Manufacturing has a variety of standard clamps/fixtures and can fabricate complex fixtures to suit specific customer needs. Over the years many types of materials have been welded such as carbon steel, aluminum and stainless steel. Refer to the "Materials Processed" section of this page for specific materials/grades.
Following completion of all customer parts, each process is analyzed to insure maximum efficiency in our manufacturing methods. Whether we are supporting the development of a unique prototype, small runs or large runs, we have the experience to suit most any need. Our goal is to find the most efficient solutions possible to maximize the value of the products supplied to our customers.
Refer to the machine specifications listed below, to see our capabilities and how we can support your fabrication needs.
Use the "Request Information" button to contact us, and attach your design documentation for our Engineering Department to review. Then work with our Engineering Department to confirm your design requirements and receive your quote.
Welding Capabilities
Welding Equipment

MIG & TIG Welding Machines:
200 amp Miller CP-200 MIG Welder (with a Millermatic 10E wire feeder)
200 amp Miller CP-200 MIG Welder (with a Miller SA-22A wire feeder)
250 amp Miller CP-250TS MIG Welder (with a Millermatic 10E wire feeder)
200 amp Miller Goldstar TIG Welder (with hand feed)
250 amp Miller Syncrowave 250 TIG Welder (with hand feed)

Resistance Welding Machines:
(2) 45 amp Miller MPS10FT (with 18" rocker arms)
50 kva Rex AR (with 24" arms)
Lors 70 KVA press type
Materials Processed

Carbon (mild) steels: (cold rolled, hot rolled, hot rolled pickled and oiled, draw quality) A36, C1018, 12L14, & schedule 40 in tube, pipe, bar, angle, & sheet

Aluminum 3003H14, 5052H32, 6061T6, 6063T5, in sheet, tread plate, bar, tube, coil, extrusion, & angle

Stainless steel 301, 304, 310, & 316 w/ #4 & 2B finishes in sheet, bar, tube, & coil
Industries Served

Climate Control Enclosures
Commercial Furniture Brackets & Shelves
Commercial TV custom vesa brackets LCD / LED / Plasma
Custom Carrying Cases
Custom OEM Circuit Board Enclosures
Education Audio/Video Equipment
Electric Motor Bases
Electrical Enclosures & Panels
Food Service Industry Brackets, Enclosures, etc
Furnace & Air Conditioning Brackets, Panels, etc
Health & Beauty - tanning bed components & brackets
Industrial Lighting brackets HID / LED
Industrial Plumbing Valve Enclosures
Medical Devices
Military Brackets & Enclosures
Pet Supply Brackets & Enclosures
POP Cash Storage Cabinets
Printed Circuit Boards
Public Utility Safety Testing Devices
Safe & Vault Brackets
Security Equipment & Devices
Specialty Fasteners/Brackets
Transportation Safety