Quality Assurance and Control Services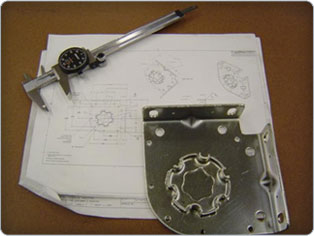 Quality Assurance & Control is the process of verifying that all customer requirements have been met or exceeded. This starts with the inception and processing of the Purchase Order and continues throughout the manufacturing process and beyond. Following the shipment our manufacturing methods, materials, labor, and tooling are reviewed to insure that they were efficiently applied. Our Quality Assurance department ensures that all part features and dimensions meet or exceed customer required specifications & tolerances. First piece, in process, visual, and final inspections are performed throughout all production processes.
Loyal Manufacturing's quality control starts with the receipt of all customer orders. When a new order is received, Sales verifies delivery method & responsibility, quantity, price, terms, special packaging/labeling requirements (bar coding available upon request), purchase order number, and customer/Loyal drawing revision levels before the order is released to manufacturing. Once in production, Quality Assurance requires a first article inspection for every process of every part performed by our QA inspector before the order quantity is released. These inspections are documented throughout the production run, along with scheduled incremental inspections performed by both the inspector and the operator. First time produced parts are generally manufactured as first samples and sent to the customer for approval prior to production release. These parts are required to have a final inspection report recorded regardless of whether customer requires an approval part prior to manufacturing. These reports, along w/ material certifications are available upon request.
Order tracking, software, & inventory - Loyal Manufacturing utilizes the latest in computer software to track customer orders through the manufacturing process and to insure that they will complete and ship by the promised date. Loyal's sustained "on-time ship rate" is just short of 100%. All timekeeping, inventory, accounting, estimating & purchasing data is input to the same software to create accurate cost reporting. This allows Loyal to keep prices competitive and aids in production flexibility. Inventory (raw materials & customer goods) is cycle counted weekly and Loyal boasts sustained accuracy of more than 99%. With customer blanket purchase commitment, Loyal offers Kanban and various other stocking programs (size/qty sensitive).
"Request Information" selection button to contact us, and attach your design documentation for our Engineering Department to review, then work with our Engineering Department to confirm your design and receive your requested quote.
Industries Served
Climate Control Enclosures
Commercial Furniture Brackets & Shelves
Commercial TV custom vesa brackets LCD / LED / Plasma
Custom Carrying Cases
Custom OEM Circuit Board Enclosures
Education Audio/Video Equipment
Electric Motor Bases
Electrical Enclosures & Panels
Food Service Industry Brackets, Enclosures, etc.
Furnace & Air Conditioning Brackets, Panels, etc.
Health & Beauty - tanning bed components & brackets
Industrial Lighting brackets HID / LED

Industrial Plumbing Valve Enclosures
Medical Devices
Military Brackets & Enclosures
Pet Supply Brackets & Enclosures
POP Cash Storage Cabinets
Printed Circuit Boards
Public Utility Safety Testing Devices
Safe & Vault Brackets
Security Equipment & Devices
Specialty Fasteners/Brackets
Transportation Safety