Shearing Services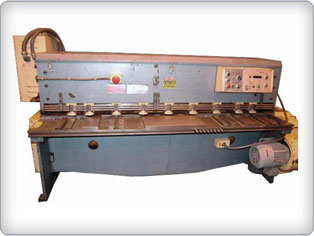 Shearing is a type of cutting operation in which sheet material is cut by means of a moving blade and fixed edge. Starting with standard size sheets, material is cut to yield sensitive panel sizes, which are generally used at subsequent workstations.
Loyal Manufacturing Corporation's shearing service has provided its customers with tight tolerance, precision metal products since 1975. Utilizing a CNC controlled Amada M2560 power squaring shear, Loyal Manufacturing can provide high volume, repeatable products with no custom tooling required. Our dedicated and experienced employees strive for "Total Customer Satisfaction" and "On Time Shipping" in every part produced. Over the years many types of material have been sheared such as carbon (mild) steel, vinyl clad steel, coated carbon steel, aluminum, copper, brass, stainless steel, & plastic (including printed circuit boards). Refer to the "Materials Processed" section of this page for specific materials/grades.
Refer to the machine specifications listed below, to see our capabilities and how we can support your fabrication needs.
Use the "Request Information" button to contact us, and attach your design documentation for our Engineering Department to review. Then work with our Engineering Department to confirm your design requirements and receive your quote.
Shearing Capabilities
Shearing Machines

Amada M2560 Shear:
Sheet Thickness Ranges: 0.005-0.25 inches
Carbon Steel (Hot & Cold Rolled) up to 10 gauge
Galvanized Steel up to 10 gauge
Galvannealed Steel up to 10 gauge
Stainless Steel up to 11 gauge
Aluminum up to .250"
Copper up to .125"
Brass up to .125"
Tolerance: ± .01" to .03" material type/thickness sensitive
Sheet Size (Maximum): 8 Feet Wide x 12 Feet Long
Materials Processed

Carbon (mild) steel: (cold rolled, hot rolled, hot rolled pickled and oiled, draw quality) sheet
Galvanized and galvannealed coated carbon steel sheet
Aluminum 3003H14, 5052H32, 6061T6, 6063T5, in sheet & tread plate
Aluminized sheet
Stainless steel 301, 304, 310, & 316 w/ #4 & 2B finishes sheet
Brass alloy 260 and 110 copper sheet
Plastic, lexan, & delrin sheet
Vinyl clad steel
Industries Served

Climate Control Enclosures
Commercial Furniture Brackets & Shelves
Commercial TV custom vesa brackets LCD / LED / Plasma
Custom Carrying Cases
Custom OEM Circuit Board Enclosures
Education Audio/Video Equipment
Electric Motor Bases
Electrical Enclosures & Panels
Food Service Industry Brackets, Enclosures, etc
Furnace & Air Conditioning Brackets, Panels, etc
Health & Beauty - tanning bed components & brackets
Industrial Lighting brackets HID / LED
Industrial Plumbing Valve Enclosures
Medical Devices
Military Brackets & Enclosures
Pet Supply Brackets & Enclosures
POP Cash Storage Cabinets
Printed Circuit Boards
Public Utility Safety Testing Devices
Safe & Vault Brackets
Security Equipment & Devices
Specialty Fasteners/Brackets
Transportation Safety